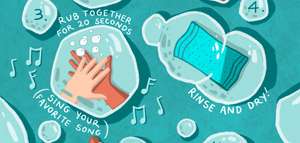 List of best sites with COVID-19 related articles
To educate, uplift, and inspire people all across the world through the global COVID pandemic crisis, the following sites have been curated and highly recommended by Google Scholar team. These sites consists of articles, news, statistics, commentaries, facts & figures and links to other blogs and journals related to COVID-19.
Novel Coronavirus Reports by Centers for Disease Control and Prevention (CDC.Gov)
This page by CDC.Gov in their MMWR series.The Morbidity and Mortality Weekly Report (MMWR ) series is prepared by the Centers for Disease Control and Prevention (CDC). Often called "the voice of CDC," the MMWR  series is the agency's primary vehicle for scientific publication of timely, reliable, authoritative, accurate, objective, and useful public health information and recommendations.
Site Link: https://www.cdc.gov/mmwr/
Coronavirus (Covid-19) articles and resources by The New England Journal of Medicine
This site/page by The New England Journal of Medicine consists of collections of articles and other resources on the Coronavirus (COVID-19) outbreak, including clinical reports, management guidelines, and commentary.
Site Link: https://www.nejm.org/coronavirus
Updates on COVID-19 diagnosis and treatment by Jama Network
Browse the JAMA Network COVID-19 collection, including Q&A's with NIAID's Anthony Fauci, an interactive map of the outbreak courtesy of The Johns Hopkins Center for Systems Science and Engineering, and past publications on vaccine development, infection control, and public health preparedness.
Site Link: https://jamanetwork.com/journals/
COVID-19 Resource Centre by The LANCET
To assist health workers and researchers working under challenging conditions to bring this outbreak to a close, The Lancet has created a Coronavirus Resource Centre. This resource brings together new 2019 novel coronavirus disease (COVID-19) content from across The Lancet journals as it is published. All of our COVID-19 content is free to access.
Site Link: https://www.thelancet.com/coronavirus
Cell Press Coronavirus Resource Hub
Cell Press has recognized the urgent need to quickly share information about SARS-CoV-2, the coronavirus that causes COVID-19. On this hub page, curated by members of Cell Press editorial team, you'll find the latest content about the outbreak as it appears in Cell Press journals.
Nature.Com's curated Coronavirus related articles 
To support urgent research to combat the ongoing outbreak of COVID-19, caused by the novel coronavirus SARS-CoV-2, the editorial teams at Nature Research have curated a collection of relevant articles. The collection includes research into the basic biology of coronavirus infection, its detection, treatment and evolution, research into the epidemiology of emerging viral diseases, and our coverage of current events. The articles will remain free to access for as long as the outbreak remains a public health emergency of international concern.
Site Link: https://www.nature.com/collections
BMJ's Coronavirus (covid-19) Hub
BMJ's covid-19 hub supports health professionals and researchers with practical guidance, online CPD courses, as well as the latest news, comment, and research from BMJ. The content is free and updated daily.
Sciencemag Coronavirus: Research, Commentary, and News
The Science journals are striving to provide the best and most timely research, analysis, and news coverage of COVID-19 and the coronavirus that causes it. All content is free to access.
Site Link: https://www.sciencemag.org/collections/
Elsevier's Novel Coronavirus Information Center
Elsevier's free health and medical research on the novel coronavirus (SARS-CoV-2) and COVID-19
Site Link: https://www.elsevier.com/connect/
Oxford University Press resources on COVID-19
Access to OUP resources on COVID-19, other coronaviruses, and related topics. As part of response to the ongoing COVID-19 pandemic across the world, Oxford University Press has made content from online resources and leading journals freely accessible to assist researchers, medical professionals, policy makers, and others who are working to address this health crisis.
Site Link: https://academic.oup.com/journals/
Wiley Online Library
Wiley is using this site to highlight newly published content – all free of access - related to the current COVID-19 outbreak. 

Site Link: https://novel-coronavirus.onlinelibrary.wiley.com
COVID-19 SARS-CoV-2 preprints from medRxiv and bioRxiv
COVID-19 SARS-CoV-2 preprints from medRxiv and bioRxiv